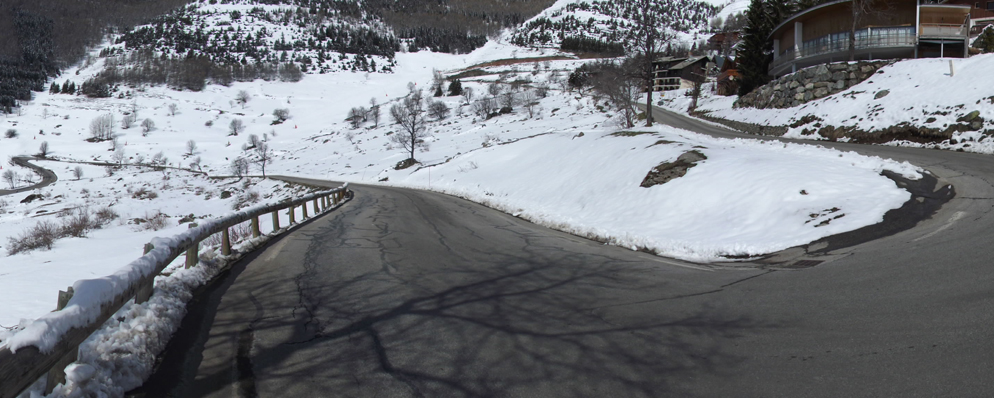 Bike Rental for Cycling Alpe d'Huez in the winter
Please
Contact Us
to make a winter booking at least 48 hours before you require the bike.
The price for each bike is 60 Euros and this includes optional pedals, shoes and helmet plus spares and a pump.
If you are just passing through the area
PLEASE STAY WITH US IN BOURG D'OISANS
rather than up in Alpe d'Huez
Cycling Alpe d'Huez in the Winter
Begining of January to end of March ONLY
The road up to Alpe d'Huez is open all year round and so it is perfectly safe and possible to cycle up the 21 bends of Alpe d'Huez.
We understand that you are probably not here to cycle but to Ski in Alpe d'Huez. Through out the winter months from the middle of December to the end of April we offer 1 day bike hire with vehicle transfers and photos. All bikes must be pre booked online at least 48 hours before your date of hire.
Here is how it works
Are you staying in Alpe d'Huez ?
This service is an additional 20 Euros per person (payable with cash or credit card to the driver) or is included in the price when there is a group of 4 or more.
Pick up in our minibus at 9AM in Alpe d'Huez at the finish line near the tourist office.
Transfer down to Bourg d'Oisans and set you set up on your hire bike.
We will then drive back up the mountain so that we are ready to take the bike off you at the end. We will also transpport any of your belongings up as well.
Once you have finished your ride we will collect the bike off you in Alpe d'Huez return your belongings and leave you to your skiing holiday.

Staying in Bourg d'Oisans or outside of Alpe d'Huez ?
Meet us at the shop in Bourg d'Oisans at 10AM for your bike fitting.
If it is cold you may not wish to descend back down Alpe d'Huez. If this is the case we are happy to take you and the bike back down to Bourg d'Oisans for an additional 10 Euros
Bad weather and cancellation
If it is snowing then the ride will be cancelled. You will have the opportunity to ride on our next available day or if this is not convenient a full refund. A refund on the hire is only available if the weather is bad on your original booking day. By making the booking you agree that PROMPT CYCLE CULTURES decision is final on whether the ride takes place or not. Riding Alpe d'Huez in the winter will require winter riding gear such as long finger gloves , hats and winter bib tights.