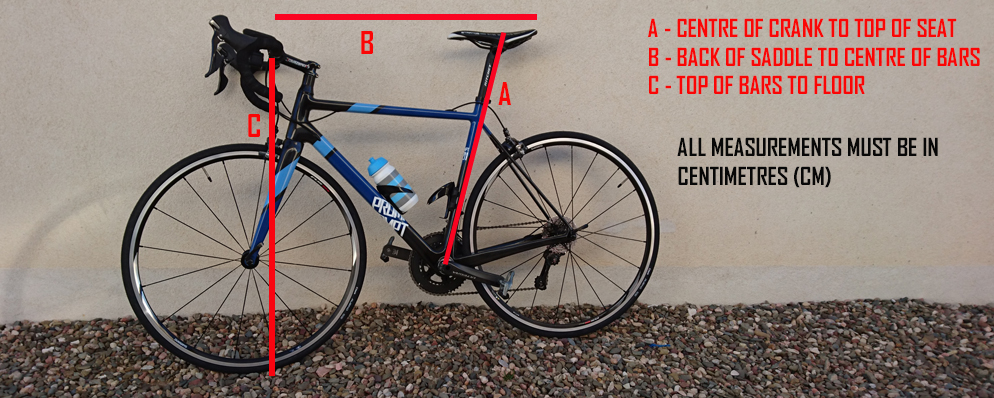 Providing Your Measurements
We provide 3 levels of fitting
1. [FREE] - As part of your basic bike hire we are happy to make any neccEssary seat adjustments and handlebar adjustments that you require.
2. [5 euros] If you require A more EXACT fitting then we can adjust your bike to the above photo "ABC" fitting. Dimensions should be provided 7 days in advance with your hire booking reference and Bike ID. All measurements must be in CMs. Your bike hire fee will be changed to reflect this - Charge 5 Euros
3. [from 25 euros] if you wish to go further than the ABC Fitting above then we are happy to do subject to our availabilty. The charge will also reflect us changing the bike back to the standard bike set up advertised for each bike. all dimensions must be supplied to us at least 7 days in advance in CMS with your hire booking ID and your BIKE ID. Your bike hire fee will be changed to reflect these aditional charges and we will send you an exact quote before carrying out the work. The Basic charge for this is 25 Euros for the first hour plus 40 euros for each additional hour.
Important notice
We cannot guarantee to match your requirements exactly but we will do our best. For example Sometimes the frame size or cut of the length of the forks or the headtube length will not allow us to meet your requirements.
Making your own changes
with our explicit permission You can make changes yourself. However the bike must come back with the same set up as it left us. For example "slammed stems" must be put in their original position. as part of the hire agreement we do have the right to charge you if you have not reverted the bike back to its original state. We will charge 15 euros per 15 minutes or part of and this will be taken from your security deposit.
My Hire Basket
in this section
Frequently Asked Questions
What size bike do I need ?
Providing Your Measurements
Customer Reviews
Terms and Conditions
Pay My Balance
Bikes
Battaglin Faster
Autumn and Winter
Winter Bike Rental for Alpe d'Huez
terms and conditions
Your reservation deposit is non refundable
You will be responsible for all damage to or loss of the hire item up to the replacement cost.
100 Euros cash deposit is required per bike. Your 100 euro deposit is returned to you if the bike is returned in the same condition.
Original Photographic ID such as a Passport or driving licence must be left for the duration of the hire. These are kept in our safe.
Please make sure the bike is suitable for you. Once the bike is taken there is no refund available.
No changes to the bike are allowed without our permission
If the bike is not returned by 6PM - we will charge 50 Euros for one days additional hire plus any lost revenue if we are unable to supply the next customer with the bike.